Quality Choices were never so affordable!
Food
Being a modern retailer, Spencer's offers the widest variety and assortment of food choices from all parts of India and across the world. The assortment is best suited for shoppers who are looking to try different cuisines or want to stock up the tradition fare for their kitchen.
Choice is available from the widest and freshest variety of fruits and vegetables, processed and ready to eat food, exotic range of foods, staples, beverages, meal solutions, nuts, poultry, dairy, savories and snacks, and spices and condiments.
A wide assortment for breakfast solutions, easy to cook or ready to eat meal solutions, regular or diet food, organic assortment, the best of worlds cheeses, deli and cuisines hailing from all parts of the world is available under one roof at Spencer's Retail.
Fruits & Vegetables
Together with our meticulously selected suppliers and food producers, we're committed to providing you the freshest and best quality of fruits and vegetables in both regular and exotic variants. We ensure that only the produce which is sourced responsibly and is of the highest quality, reaches the customers.
Staples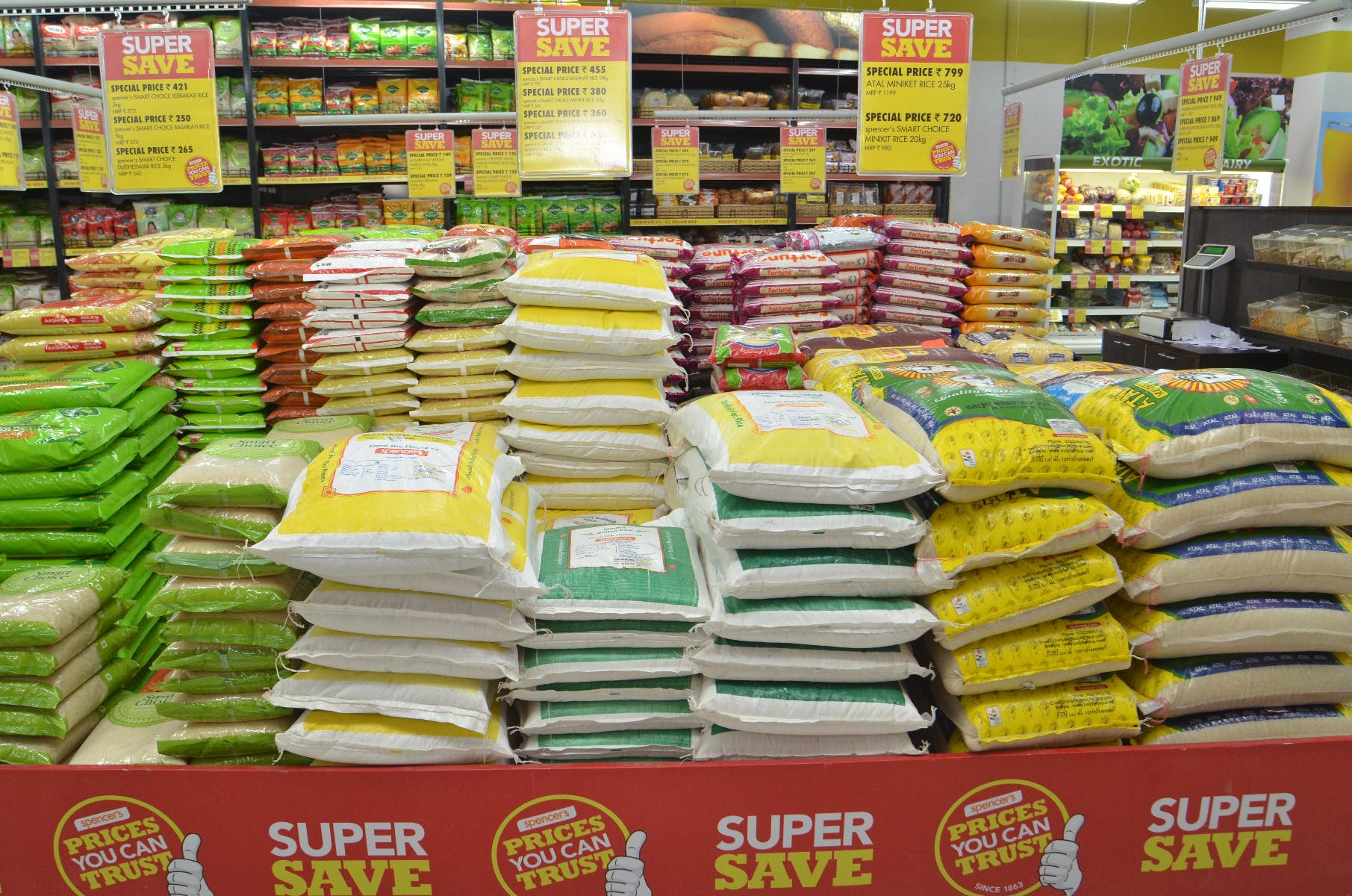 A wide range of staple products are available at Spencer's stores offering the best selection of grains, pulses and edible oils such as vegetable, soya, olive, canola, mustard amongst others varieties. The merchandise mix offers regular as well as premium quality produce and aims to perfectly suit everyday cooking.
Beverages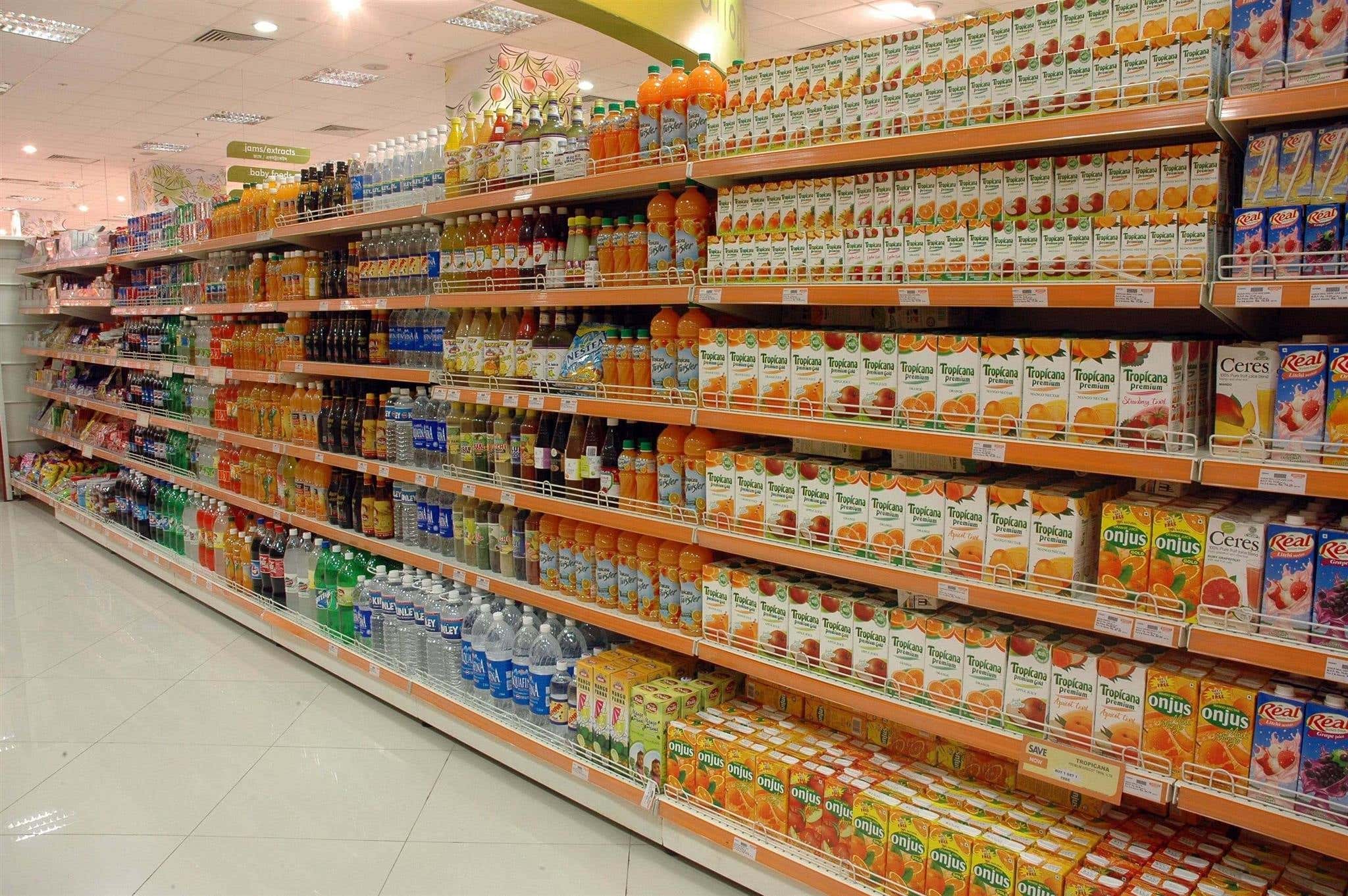 Beverages of both hot and cold varieties which includes a wide variety of packaged coffees, tea, fruit and vegetable juices, dairy based drinks, lemonade, sparkling water, soft drinks, health drinks and supplements form Spencer's comprehensive product range.
Processed Food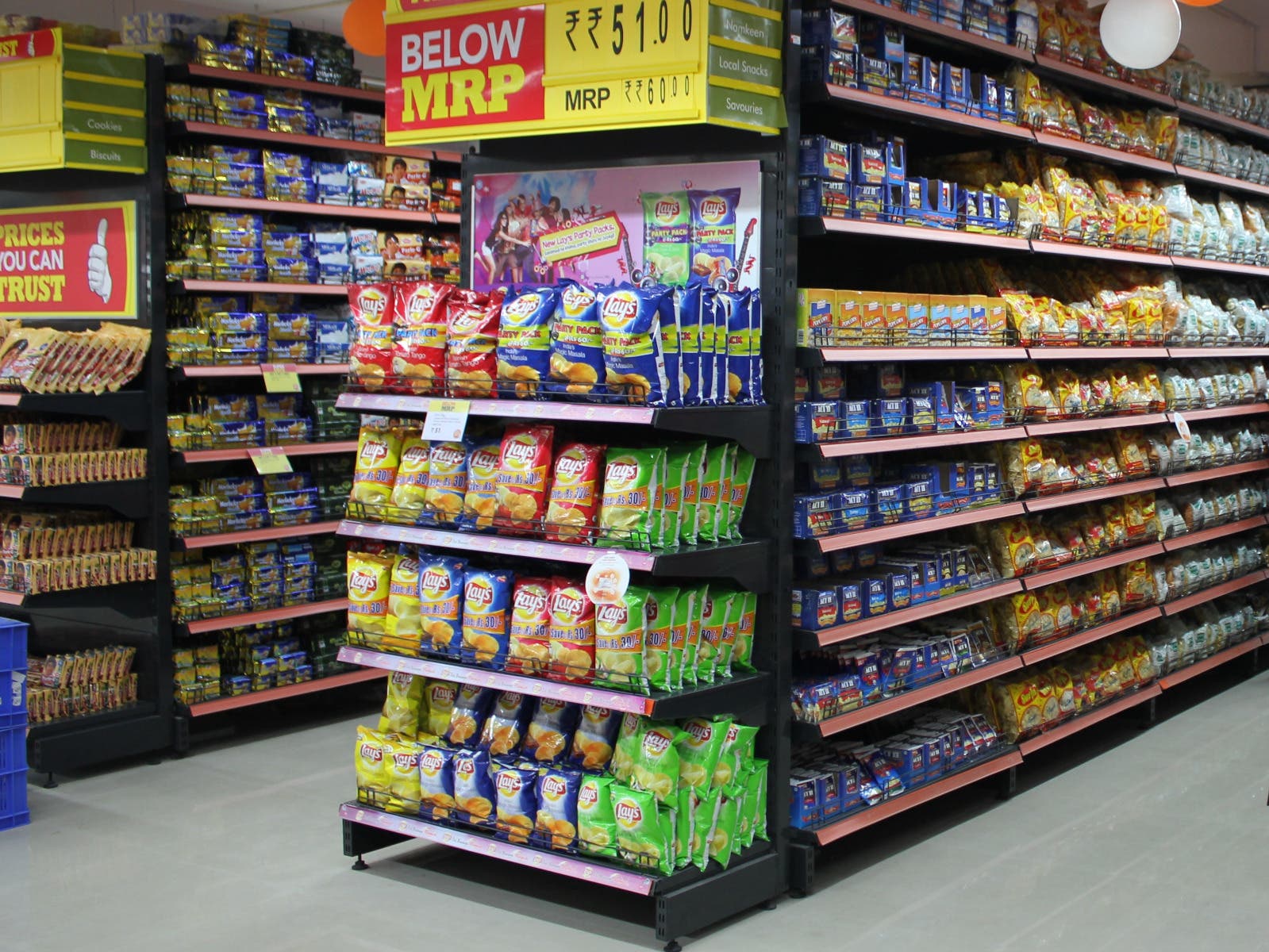 We take great pride in our huge offering of processed food range at our stores. This section inlcudes packaged ready-to-eat products such as biscuits, wafers, chocolates, snacks and savouries – both locally and nationally procured. Ready-to-cook foods such as noodles, pastas, fries, sausages etc are also very popular at Spencer's.
Dairy
Spencer's understands the importance of dairy and dairy products in an Indian household and brings to its customer a wide selection of milk, curd, sweetened and flavored dairy products, delectable cheese, butter, ghee and cottage cheese. All products are freshly packed and stored for consumption in dairy chillers at all our store.
Fish & Meat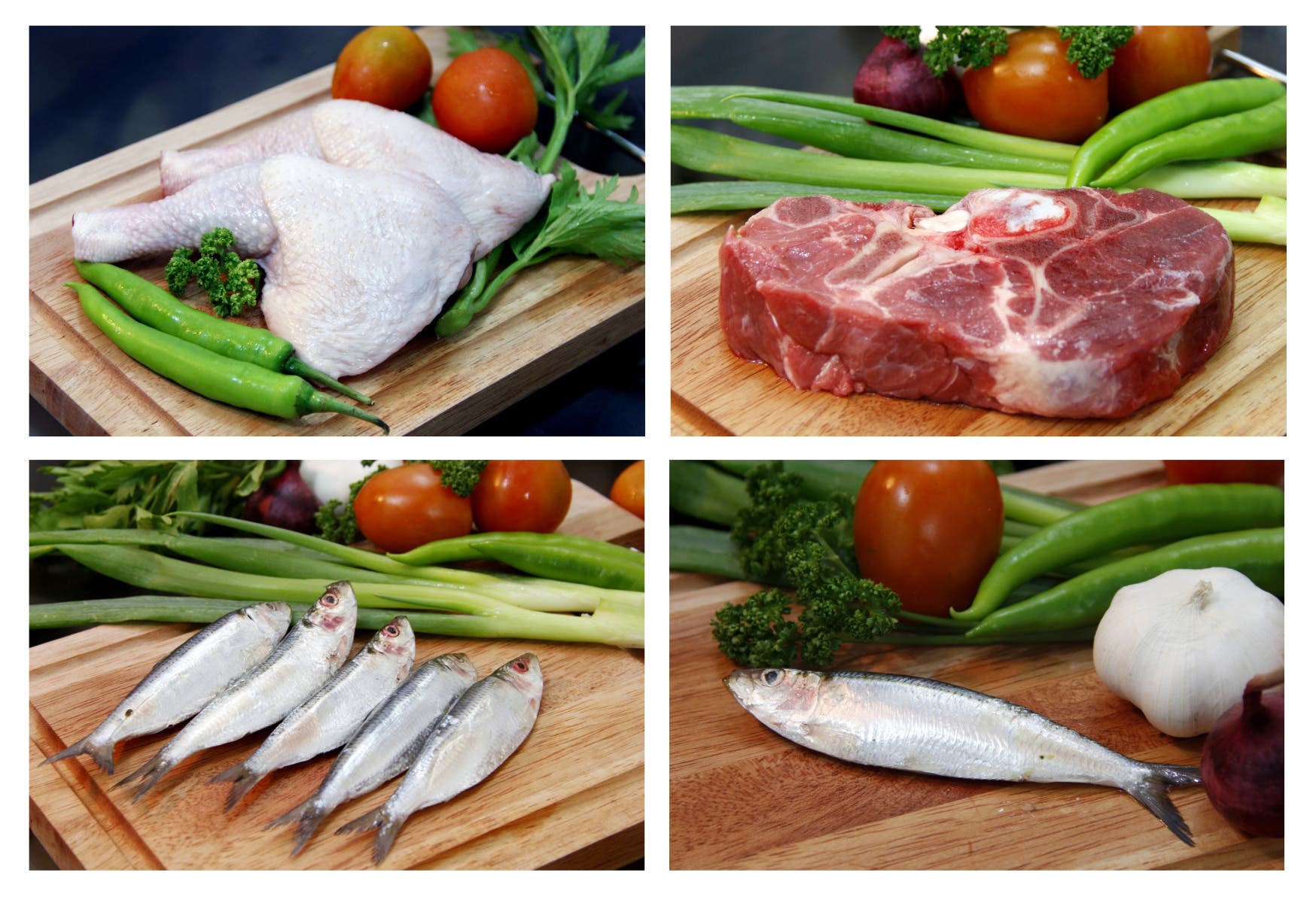 Spencer's has a dedicated space to sell fresh non-vegetarian items, be it the finest pre-packaged cold cuts or fresh seafood – right from live tanks to store facility. The handling of fish & meat products is especially done by trained personnel in hygienic and controlled environment to ensure that only fresh and clean products reach home of our customers
Spices & Condiments
Spencer's brings the world together at our spices section where we offer carefully curated spices and condiments from length and breadth of India and across the world. From the kitchen staple for Indian cuisine like aromatic garam masala to tangy Chinese condiments like vinegars and soya sauce or the flavoursome seasoning herbs like oregano and basil, Spencer's has it all.
Personal Care
Beauty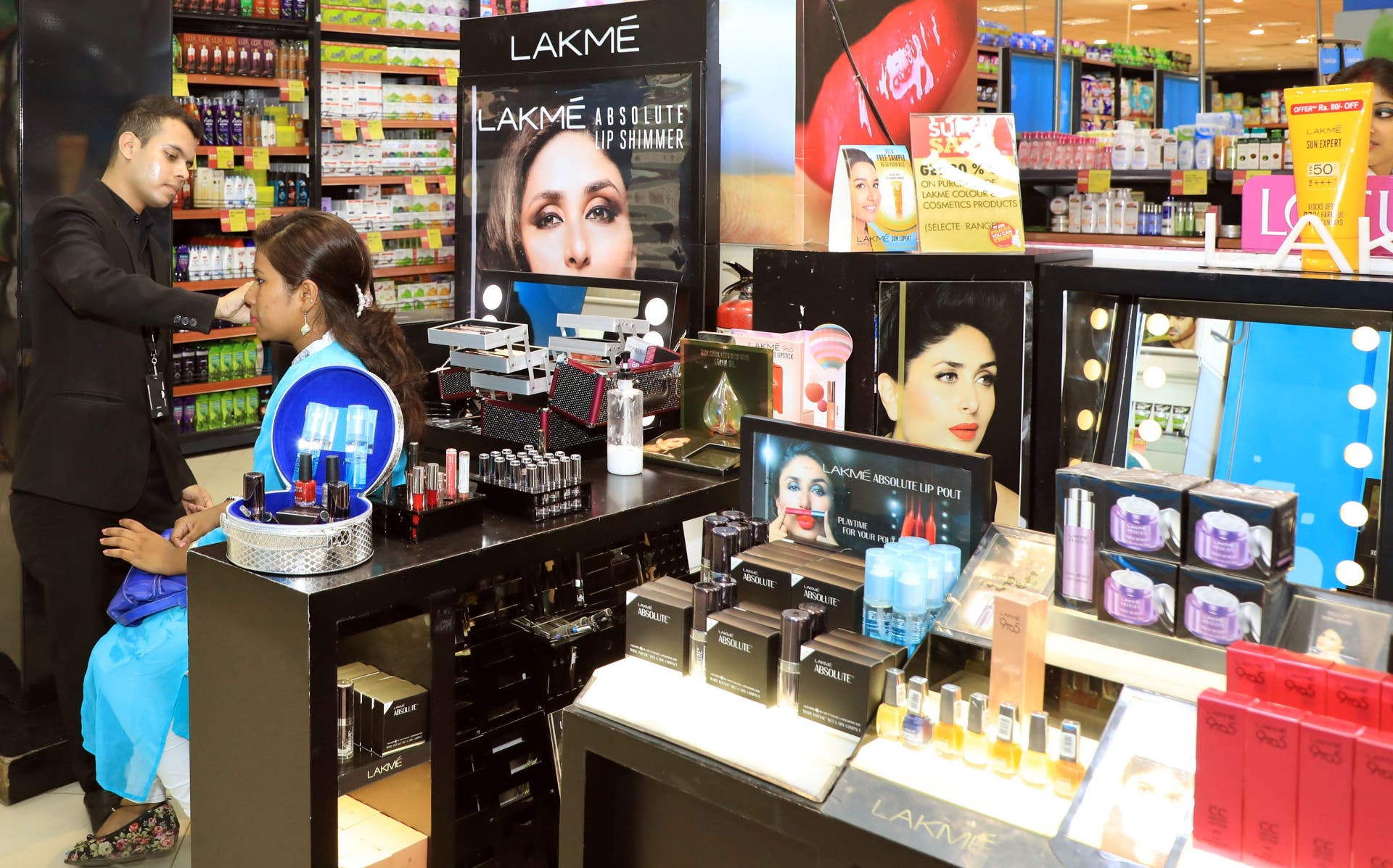 Highlight your best features with the wide range of beauty products available at Spencer's beauty counters. We offer the best choices in with array of makeup range such as eyeliners, kohl, lip color, nail colour and many others for your beauty fix.
Skin Care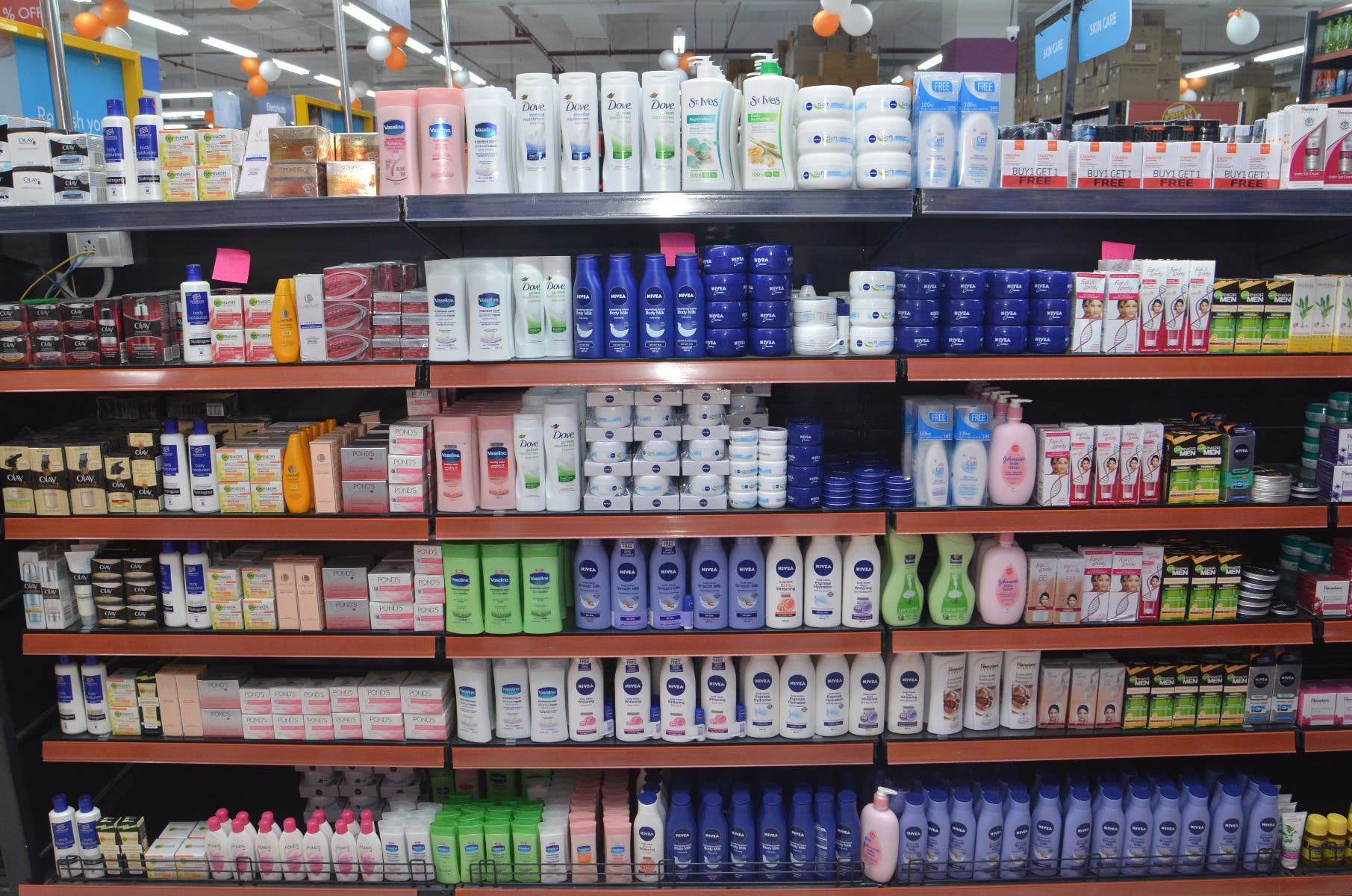 Spencer's brings an exhaustive choice in skin care products to pamper yourself and your family. From face wash to body wash, astringents to talcum powder, moisturizing to sun protection solutions, fairness to anti-wrinkle solutions, soaps, deodorants, perfumes and lip care, Spencer's is a one stop shop for all your skin care needs.
Hair Care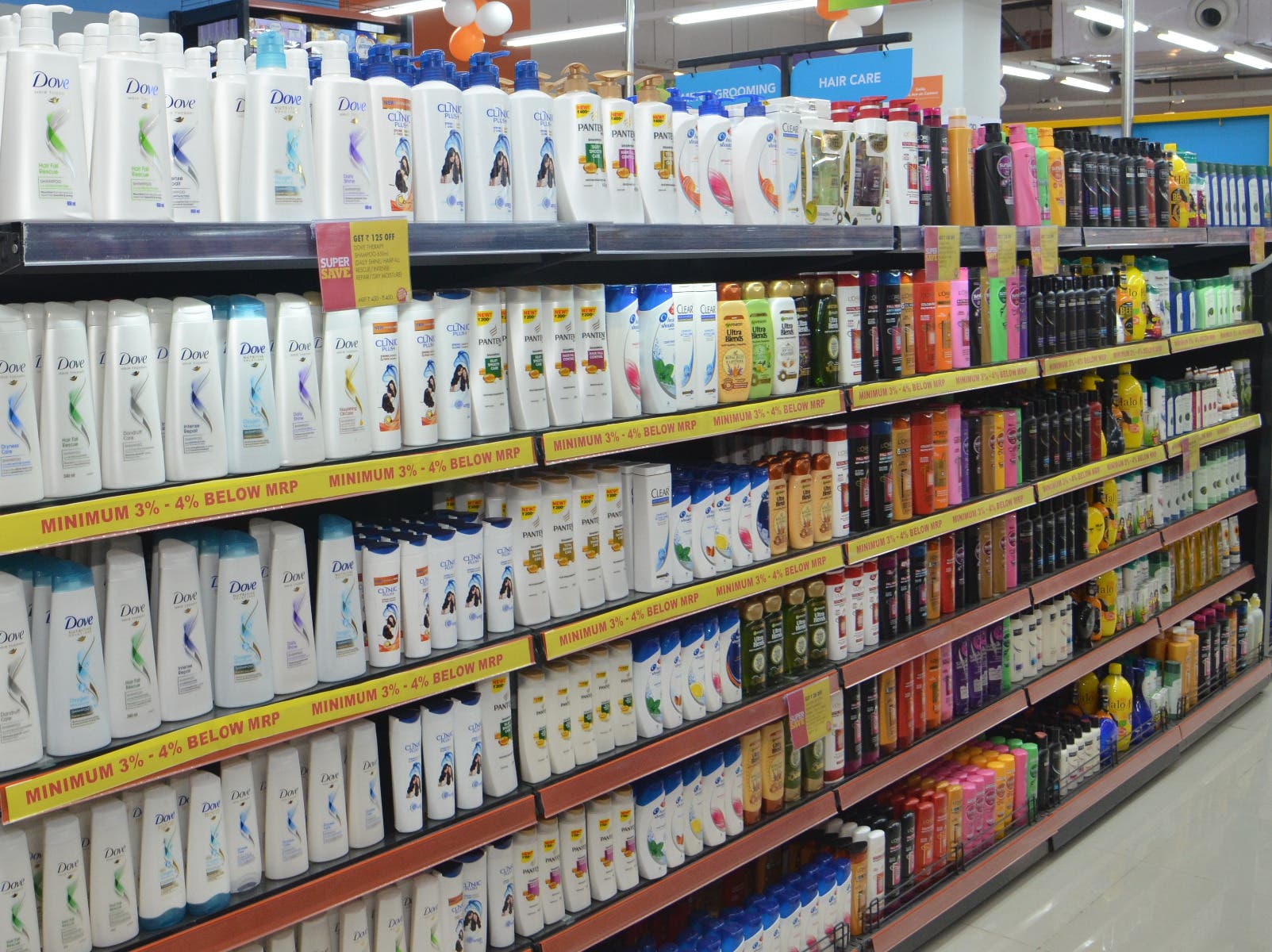 From regular hair care solutions to salon like intensive hair care solutions, Spencer's brings to its shoppers a wide variety of shampoos, conditioners, oils, masks, serums , gels , hair color and other products to perfectly suit your kind of hair.
Oral Care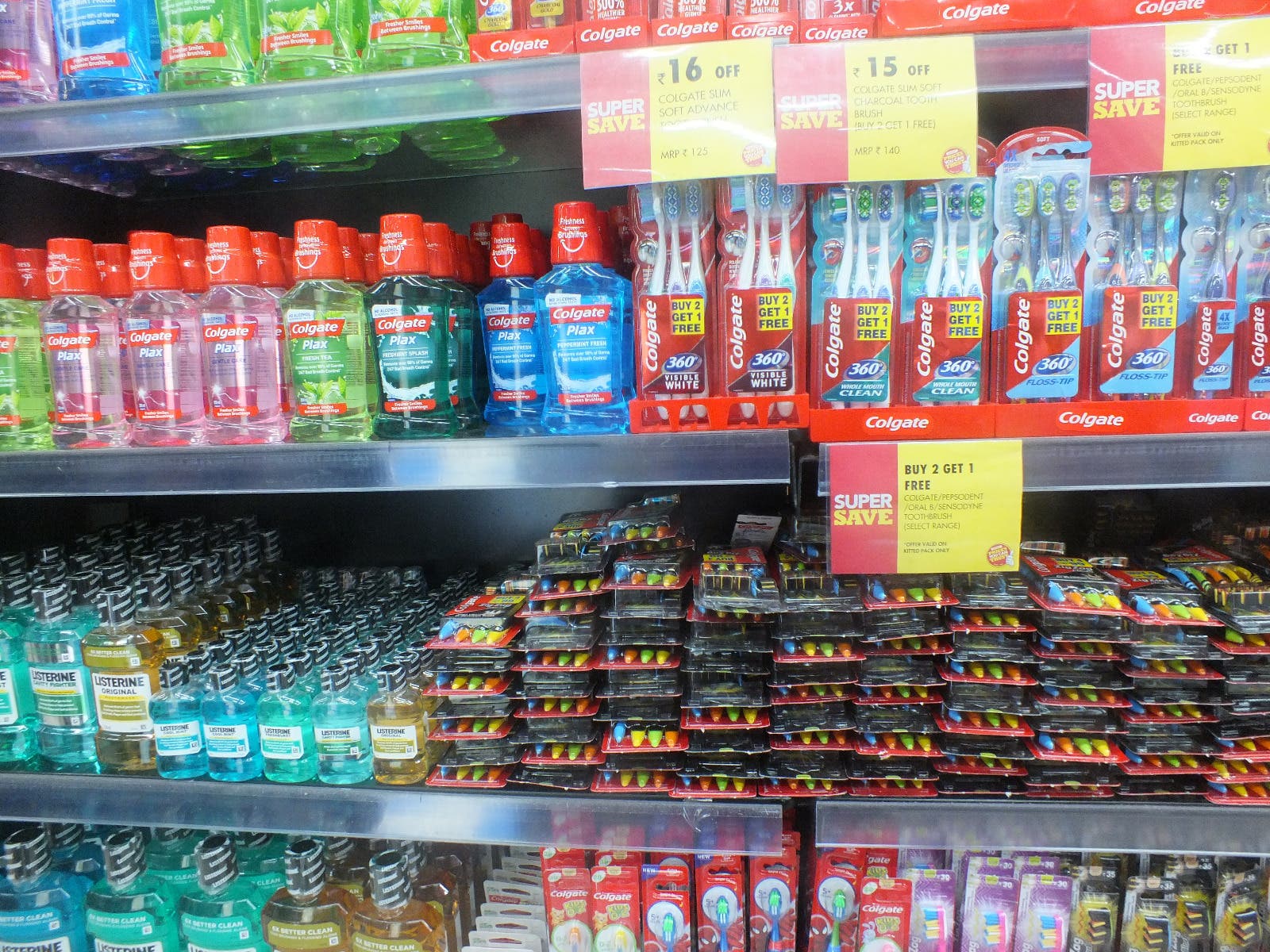 A wide range and variety of toothbrushes, toothpastes for regular and sensitive use, mouth wash and other oral care products are available at Spencer's stores.
Baby Care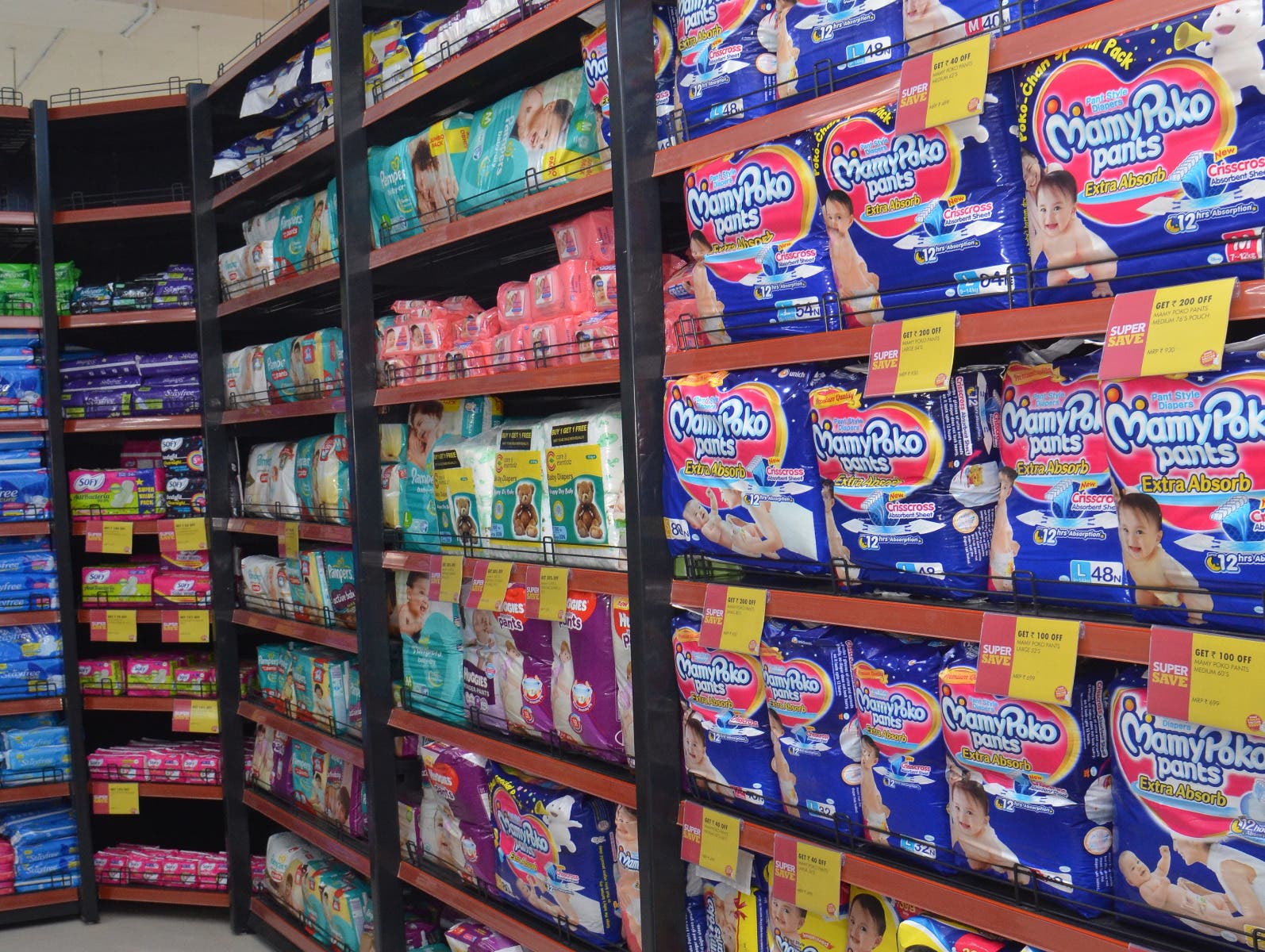 We know that every baby deserves special care. We offer carefully chosen baby care products for your little one, ranging from talcum powders to soaps, shampoos, diapers, feeding bottles etc. to suit needs of a baby
Men's Grooming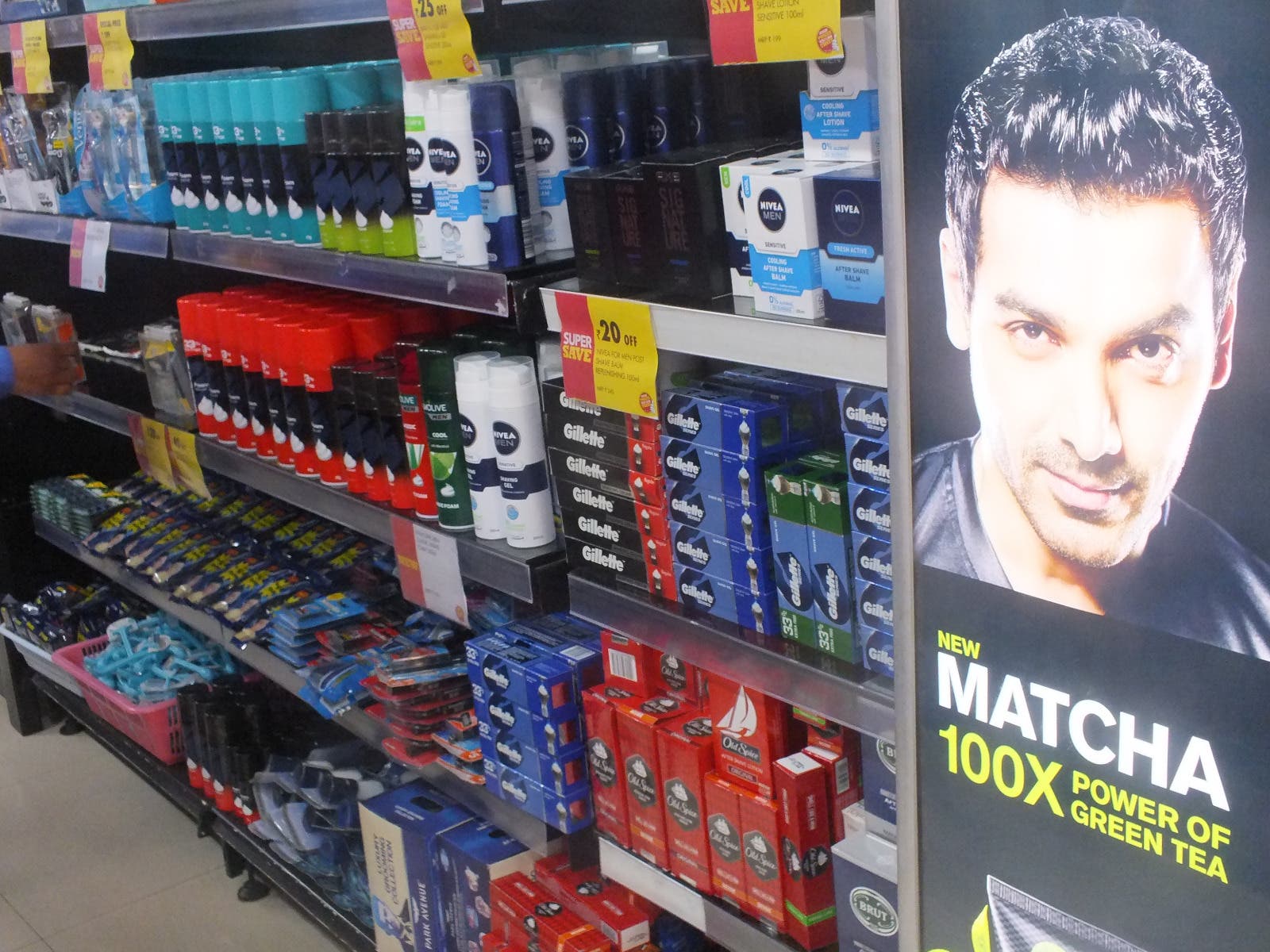 At Spencer's, we understand the special needs for men as consumers who want to use choicest of men's grooming products at the most affordable prices for their daily grooming needs. Spencer's bring to you a whole range of shaving and hygiene products and equipment to our stores especially curated keeping in mind their requirements.
Personal Hygiene
Our stores offer a wide range and variety of personal hygiene products such as sanitary napkins, hair removal equipment, ear buds, balms, contraceptives, bandages, foot care / spa products that is regularly used in every household.
Home
Home Décor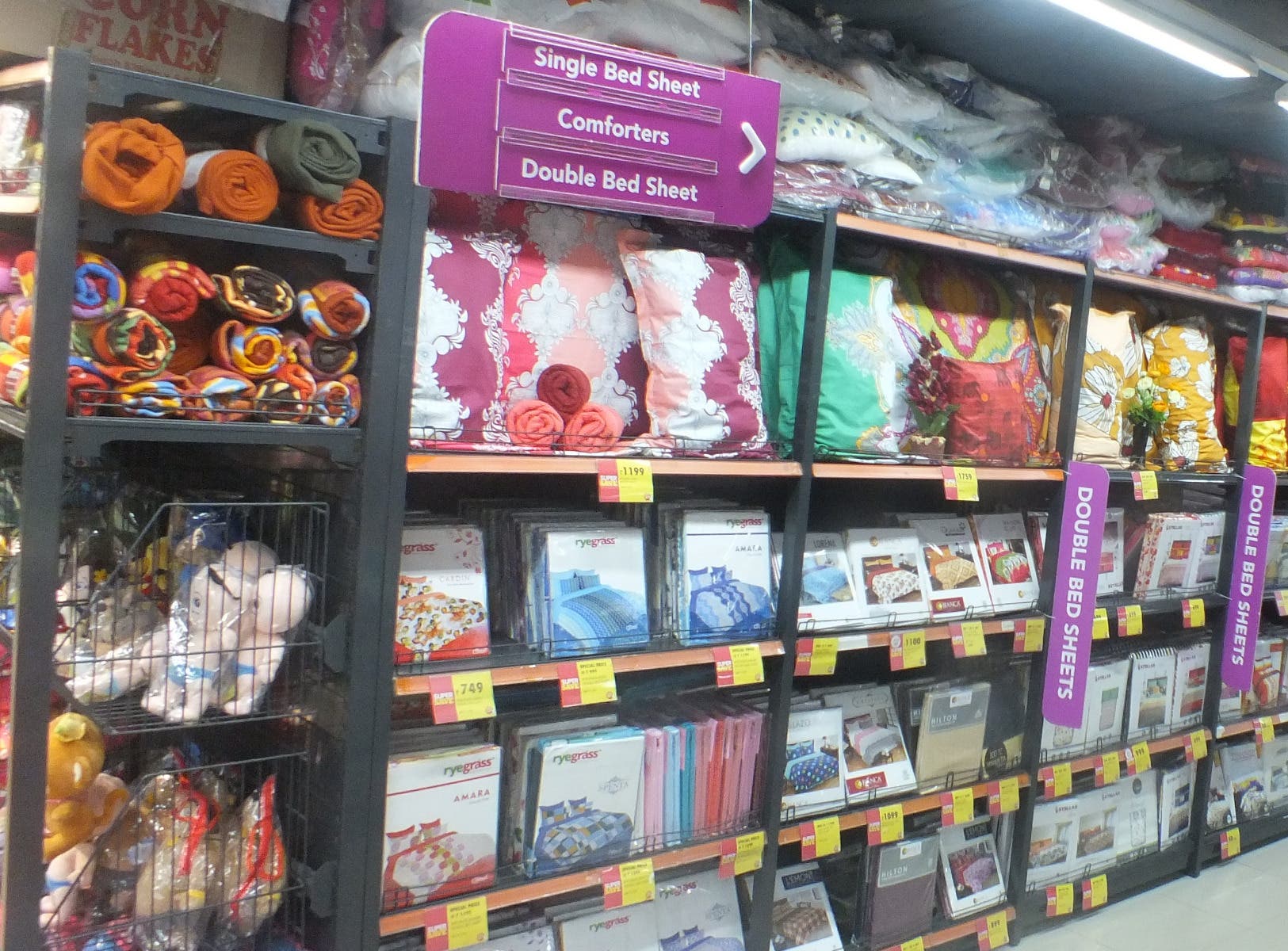 Step into a Spencer's store and be prepared to be wowed by our curated collection of Home décor products for your living room, dining and bedroom. From minimalistic to ultra-modern, our wide range of Home and General merchandise will cater to the look that you desire. Utility furniture like sofa sets, bean bags, closets and cabinets, centre and side tables, wardrobes, study table, ironing tables – can all be found at select Spencer's stores.
Home Furnishing
With a wide range of bed-sheets, bed covers, pillows, pillow covers, cushions, door and window curtains and table cloths at truly affordable prices, Spencer's offers designs and prices in home furnishing which is hard to compete with.
Bathroom Essential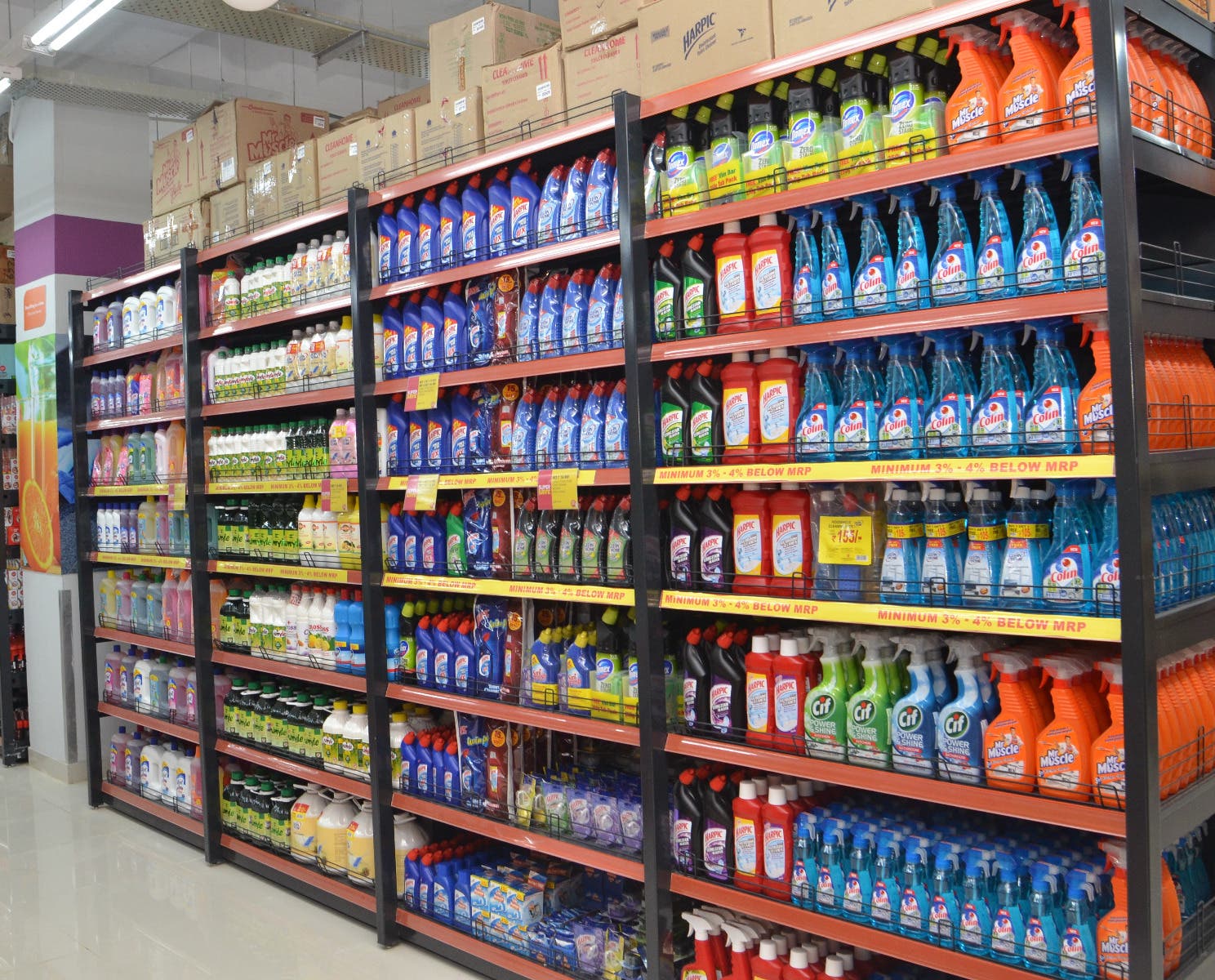 Turn your bathroom into a truly alluring space with our collection of cleaning and bathing articles. Starting from functional bathroom curtains, toiletry sets, curtain rods, hangers and clips, Spencer's aims to keep your bathrooms clutter free. Our large range of floor cleaners & disinfectants, cleaning brushes, mops, phenols, scrubs, bins, phenyls and tissues – makes Spencer's a one-stop shop for all your toiletry needs.
Kitchen Essentials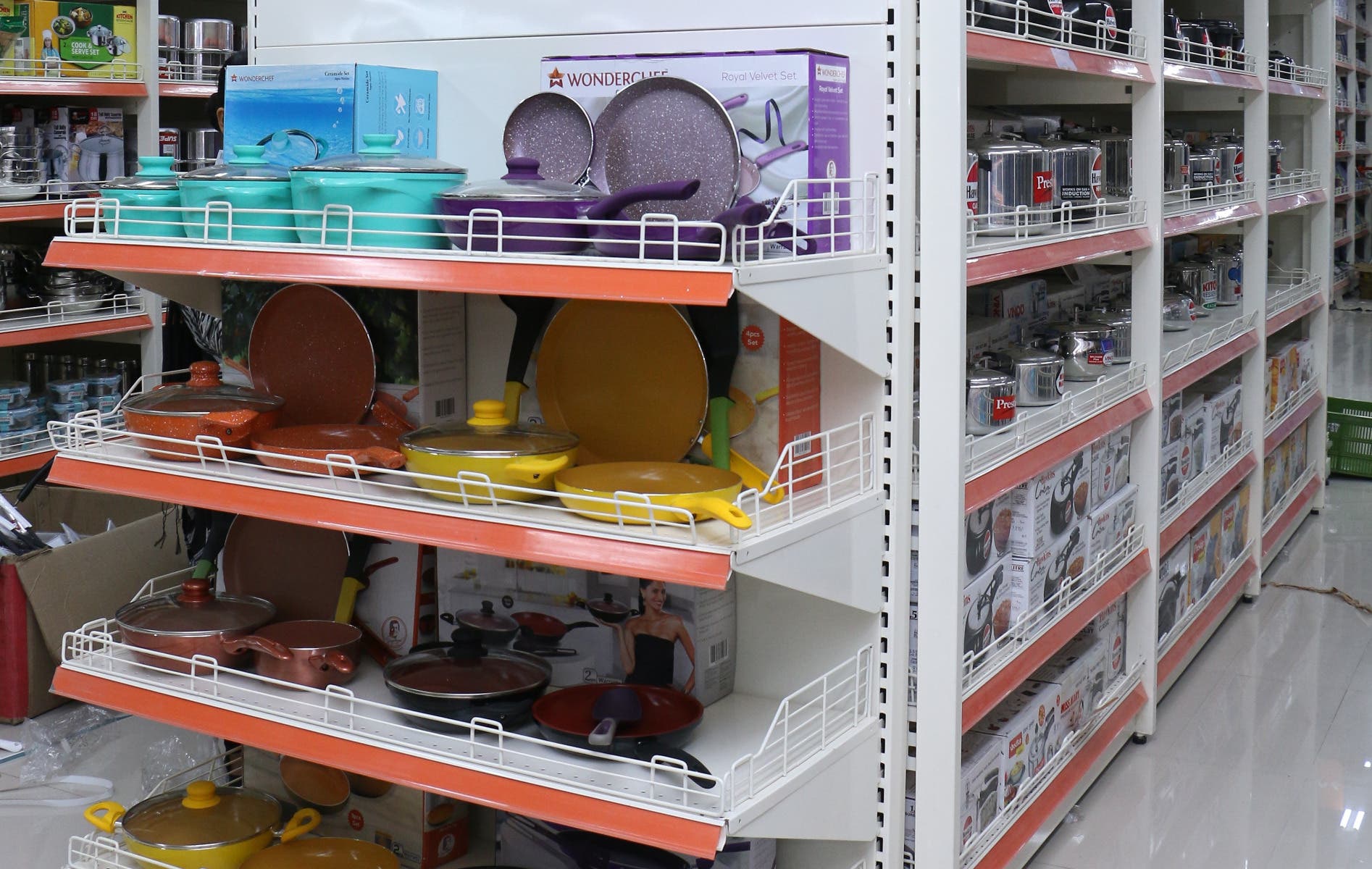 Make every meal memorable with Spencer's top quality kitchen essentials including non-stick utensils, stoves and pressure cookers. Kitchen equipment like cutlery sets, chopping boards, knives and scissors, and other utilitarian products including selection of kitchen towels, wipes and scrubs. Spencer's exclusive collection of colourful water bottles, hot pots, containers in all sizes, tiffin boxes, plastic and earthen ware makes our kitchen section comprehensive and a one stop destination for related shopping.
Dining Essentials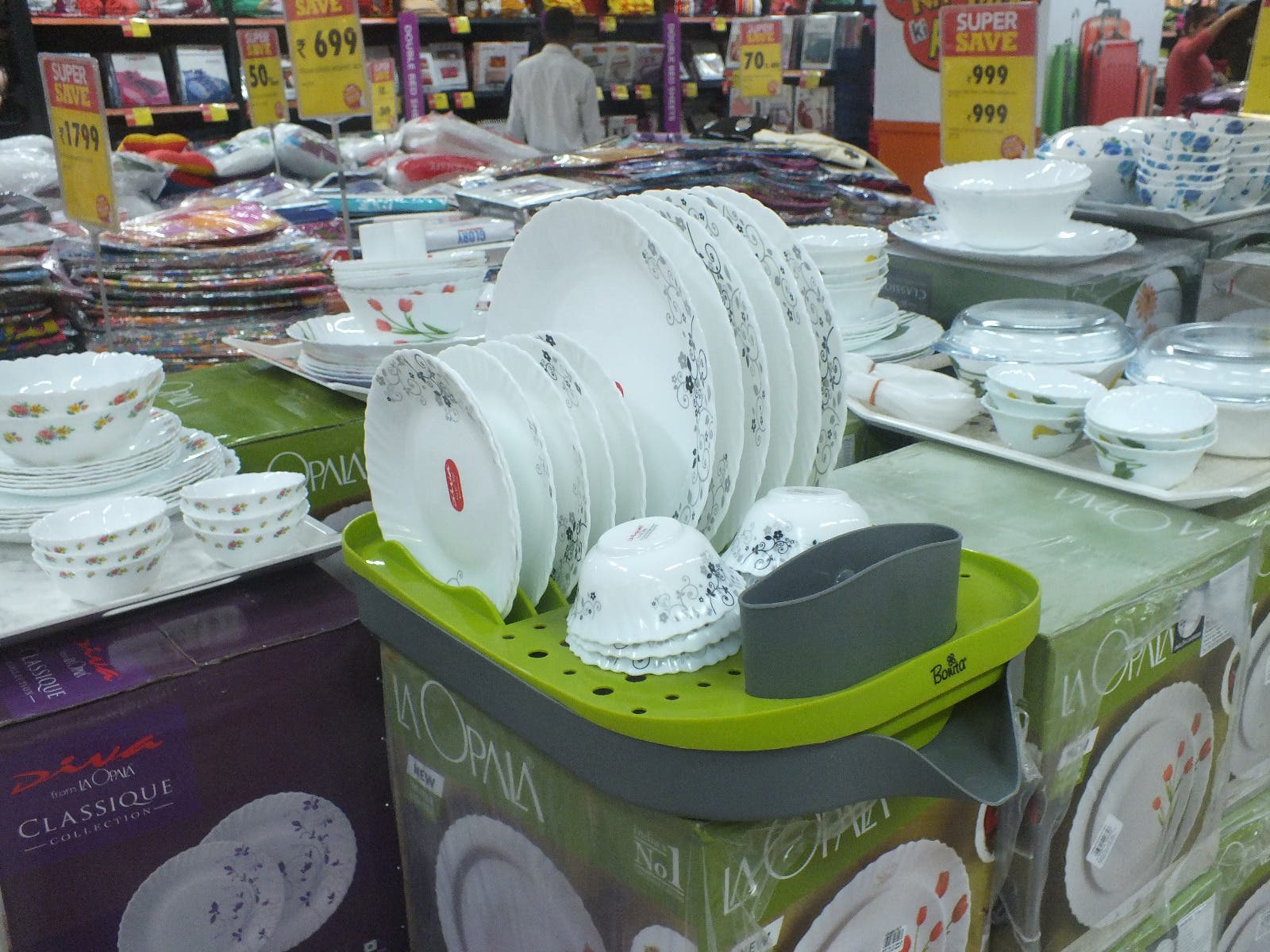 Spencer's brings fine dining experience to your home with our exquisite collection of glassware, melamine ware, bone china and steel, and microwave safe dinner sets. Choose from Spencer's range of tea sets to enjoy your morning tea and find the glass set of your choice to make your evenings special
Travel Needs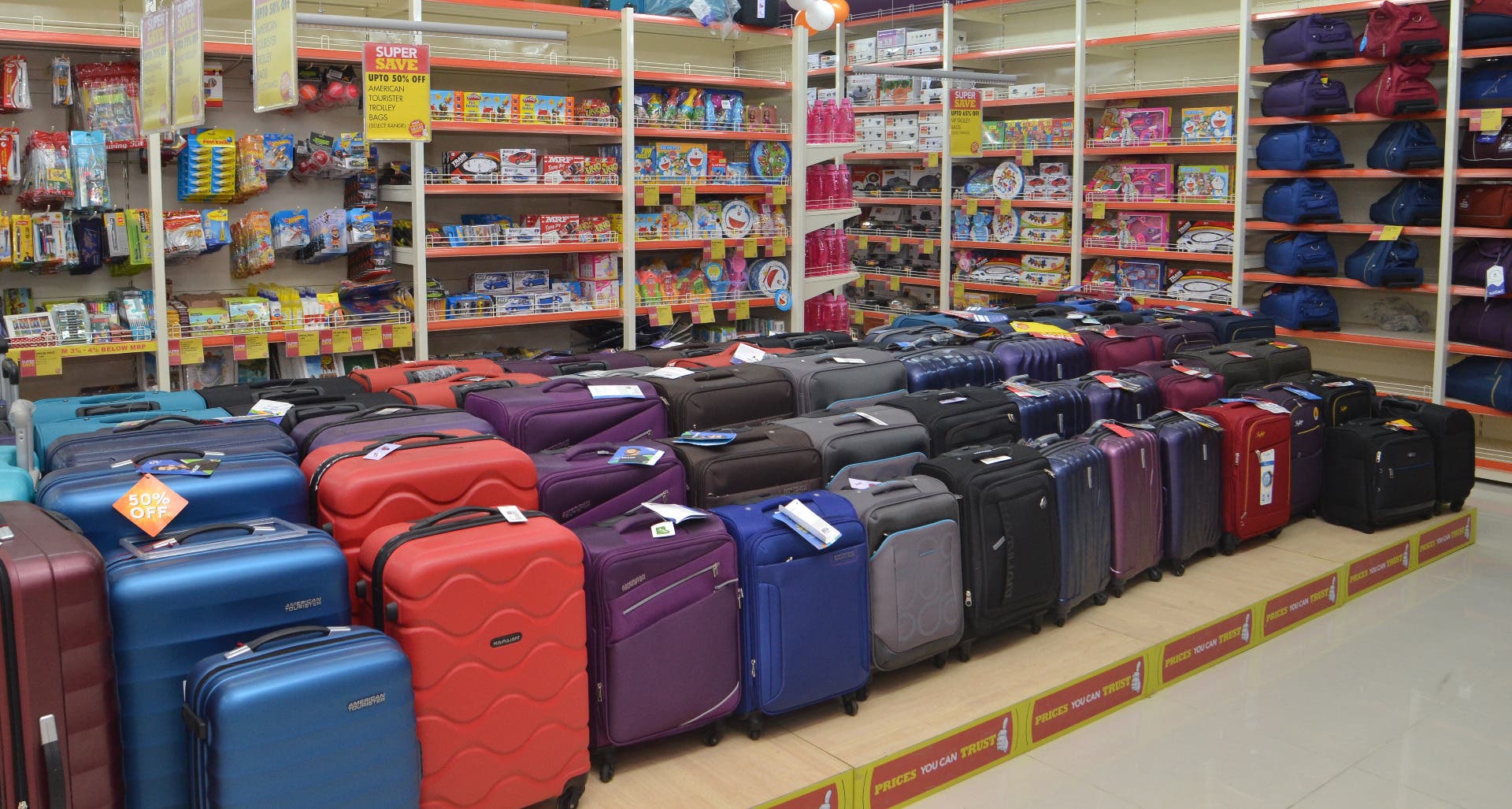 Travel in style with Spencer's wide variety of luggage bags and backpacks. Our laptop bags selection will ensure you mean business in meetings, and simultaneously have option for you to choose from a fun range of school bags for your kids.
Toys & Stationary
Pamper your children with our extensive collection of soft toys, games, puzzles, plastic toys and dolls, and nurture the budding sportsman in your child with the perfect sports equipment. Keep their creative juices flowing with our range of pens, glue sticks, copy books, crayons and sketch pens.
Electronics & Electricals
Home Appliances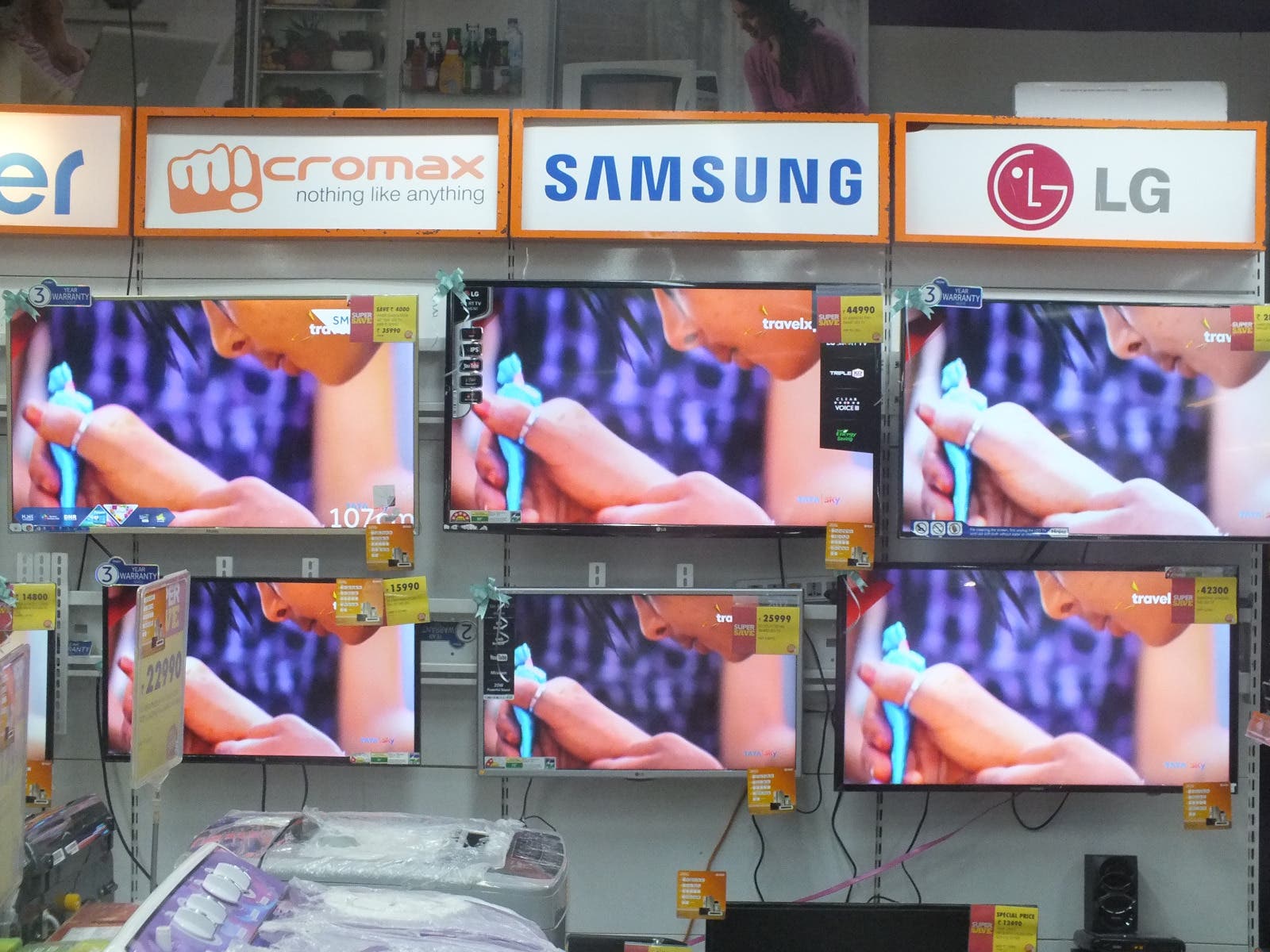 Equip your home with the latest and best of home appliances such as refrigerators, washing machines, air conditioners, coolers, heaters, microwave ovens, vacuum cleaners, geysers, irons and every other electronic product that you are looking for from Spencer's. With a number of brands to choose from at best market prices, Spencer's offers the best one of the finest electronic range in the country.
Kitchen Appliances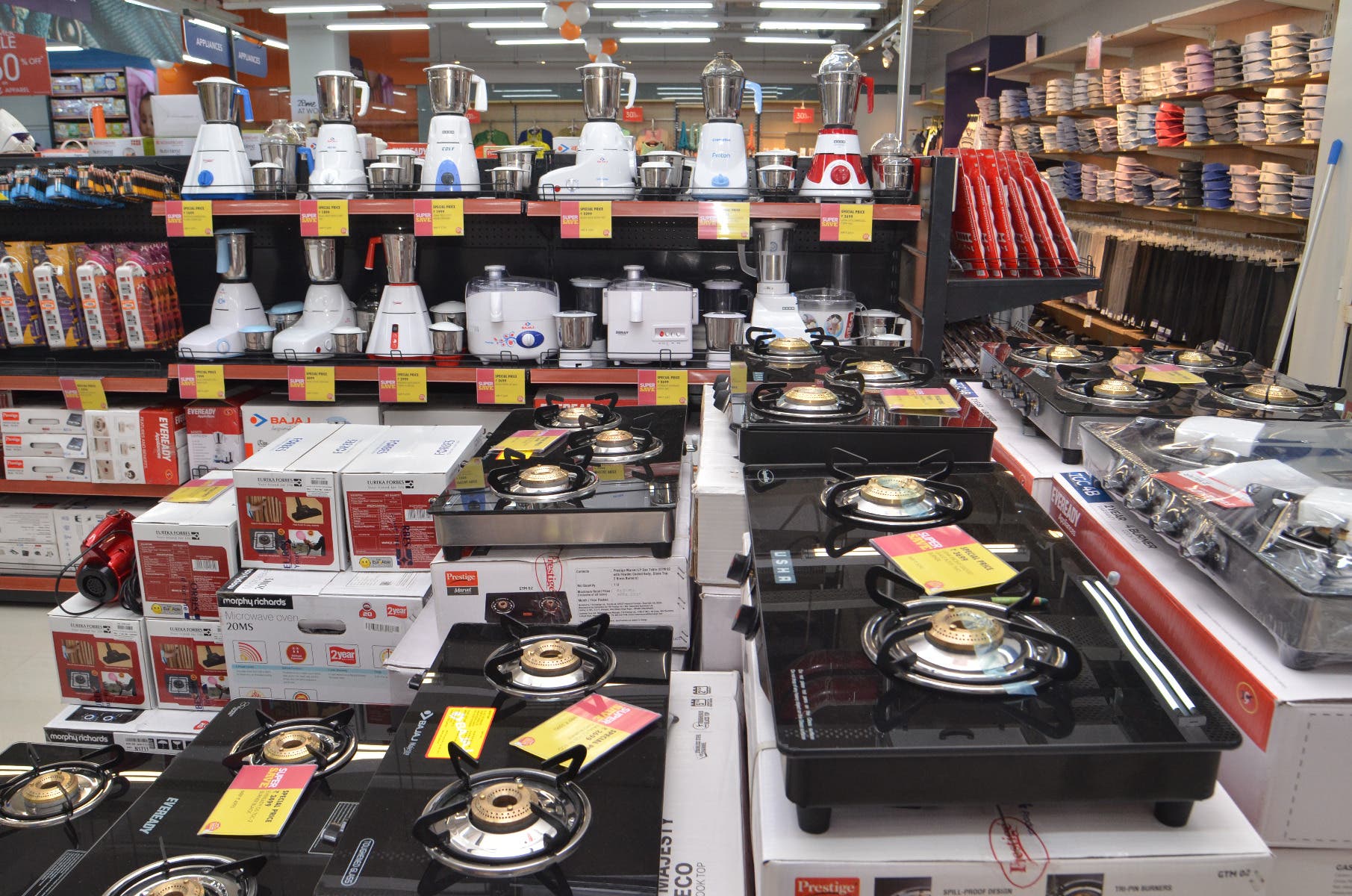 Be prepared to be bowled over by Spencer's collection of kitchen appliances starting from food processors, mixer-grinder-juicers, hand blenders, induction cookers, rice cookers, coffee makers, electric kettles, roti-makers to toasters. This section is a must visit for anyone who is looking for the latest kitchen appliances at the best price in the market.
Electrical Fittings & Accessories
Hazard-proof your home with Spencer's range of electrical fittings and accessories, starting from extension cords, plug points, energy saving lights, fans and batteries, essential for your daily needs. We also stock personal grooming products like shavers and trimmers, epilators, massagers, hair dryers, flat irons and curlers.
Digital Equipment & Accessories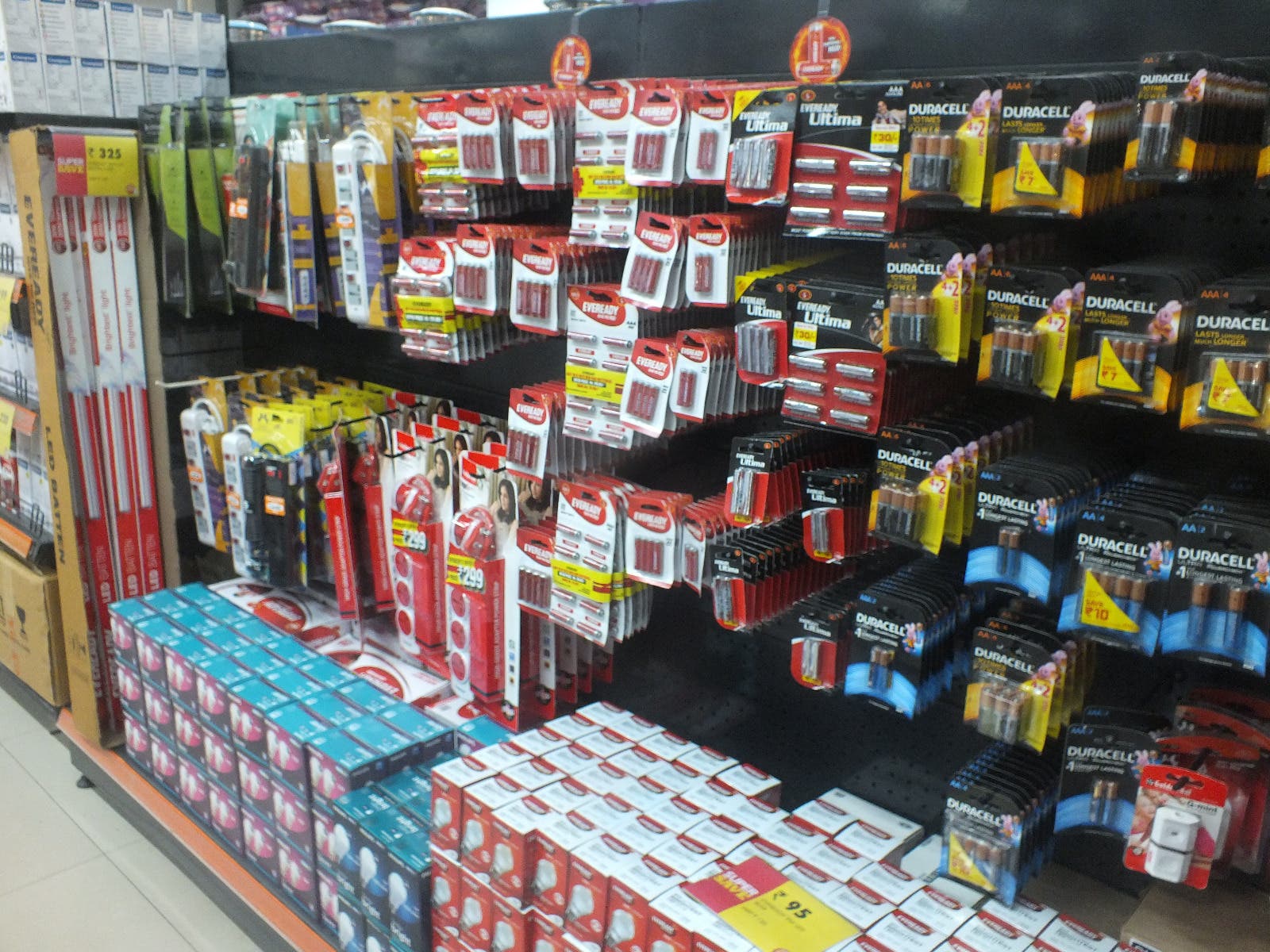 Explore the latest tech world with a large range of mobile phones, tablets, laptops, netbooks, computers and accessories. With Spencer's, never miss capturing a moment with a host of digital equipment such as SLR cameras and digicams, handycams and imaging accessories like camera covers/bags and tripods.
2Bme
2Bme is apparels range of for men, women and children from the house of RP-Sanjiv Goenka Group which is looking at redefining contemporary fashion. 2Bme is a one stop apparels solution for family which is stylish and high on comfort yet affordable. 2Bme aims to offer fashion that makes you look the best as you. 2Bme is currently available in select Spencer's Retail outlets.
Men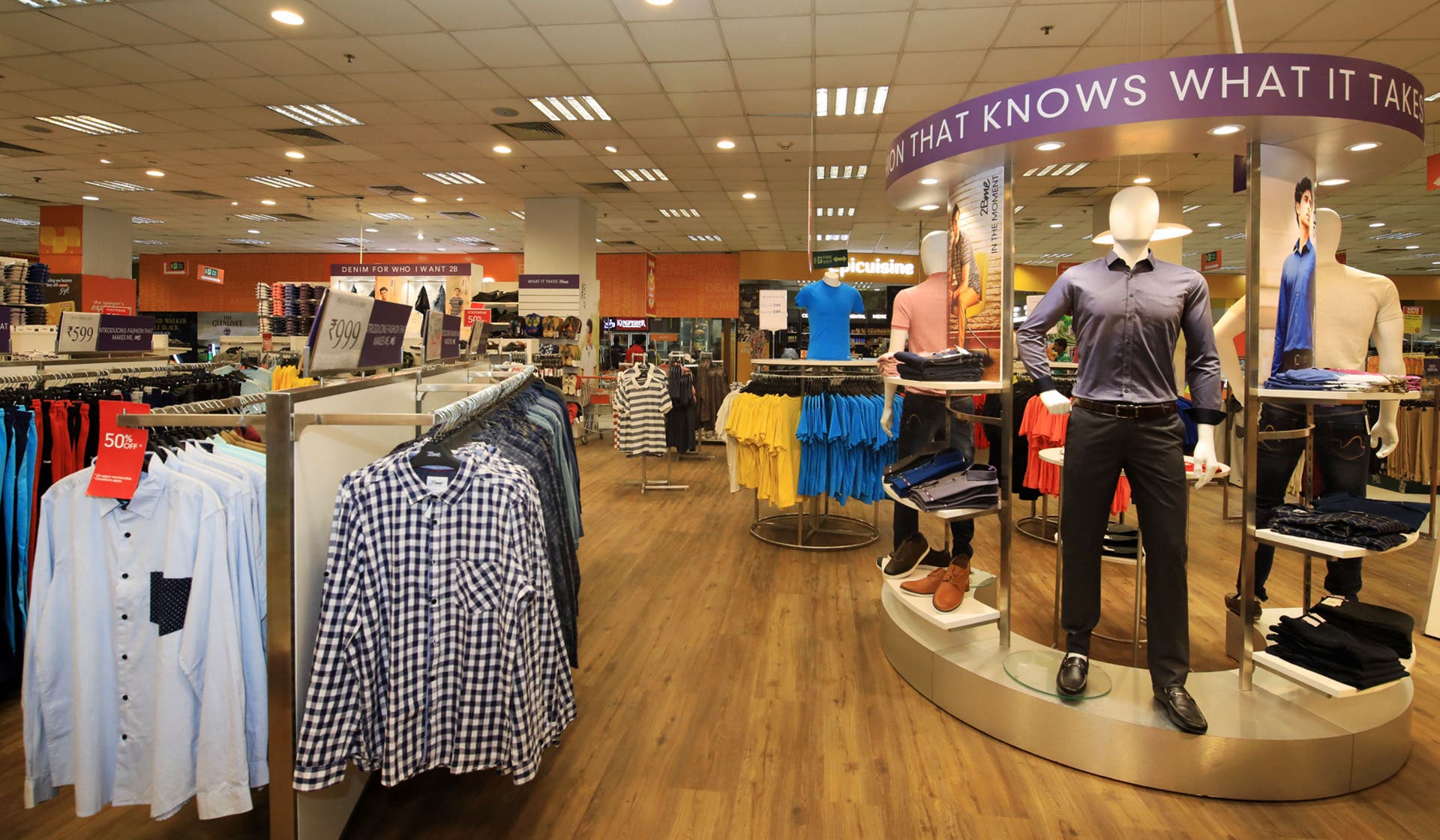 2Bme men's collection has been designed to create myriad looks starting from sophisticated easy dressing to comfortable tailored looks which can be worn effortlessly through the day. The collection has clothes with easy silhouettes, softened details and textured fabric bases are available in casual, semi casual and formal wear for men to choose from.
Women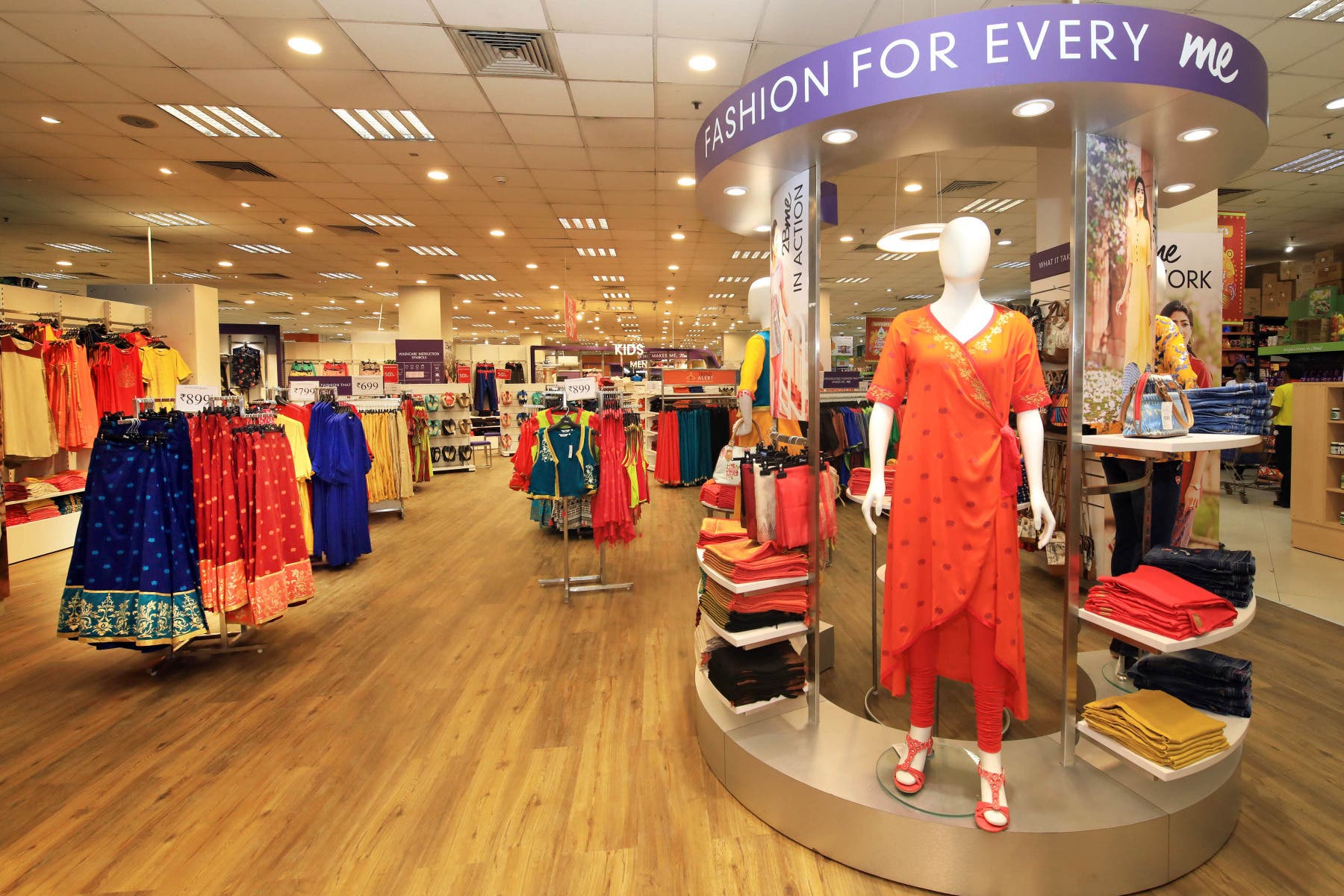 2Bme women's wear has been designed where clothes are high on comfort and have an easy yet a composed eclectic look. 2Bme garments have been created such that they create a unique personal statement, individually as well as when paired. The clothes have easy shapes and are high on comfort. Soft and textured fabrics are used to create a highly fashion inclined 2Bme women's clothing range.
Kids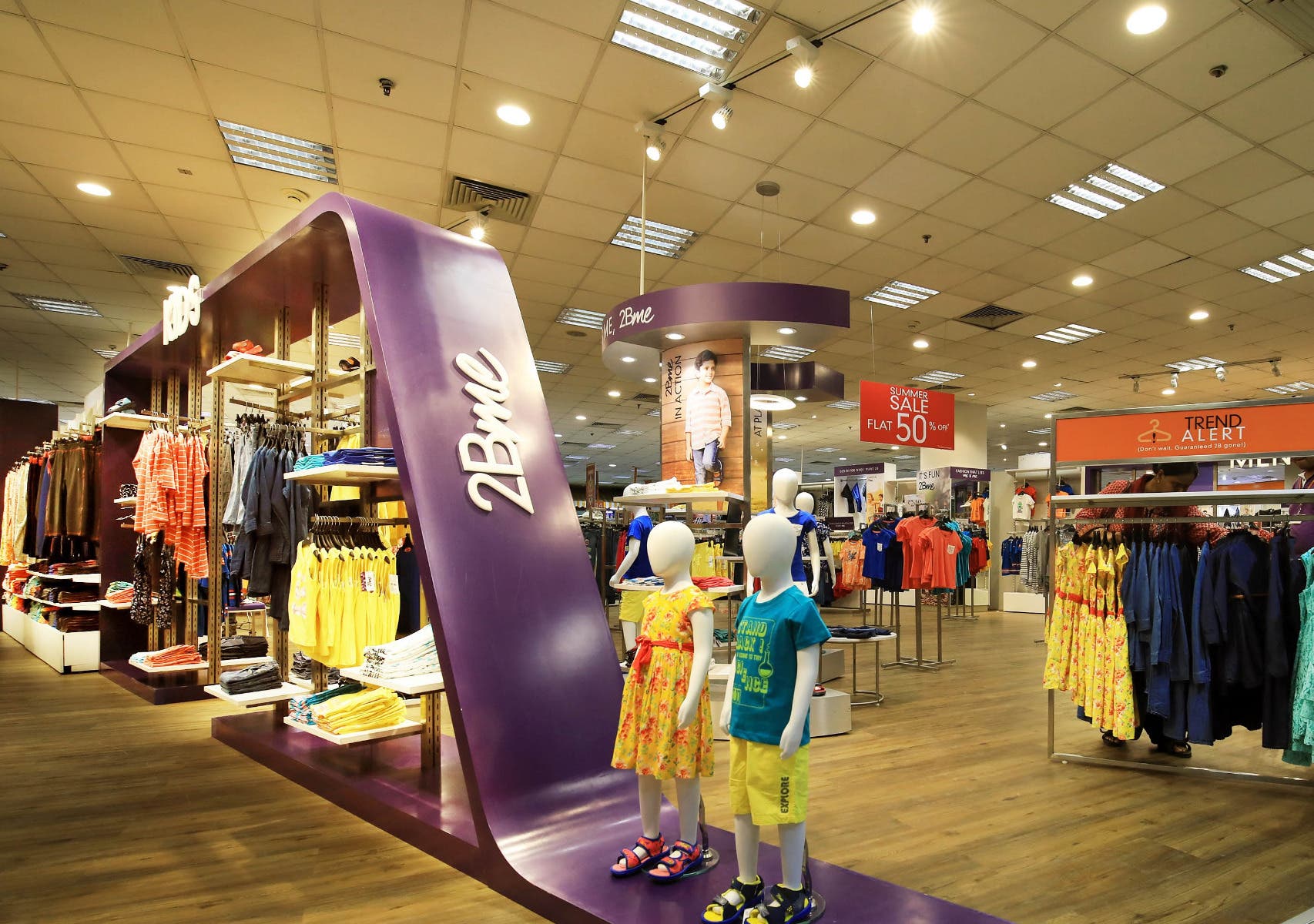 2Bme kid's range has combination of high quality fabrics, comfortable fits and interesting design which is a treat for the kids and a superb solution for the mothers. The kids range keeps both, fun and functionality factor of apparels high.
Specialties
Organic Products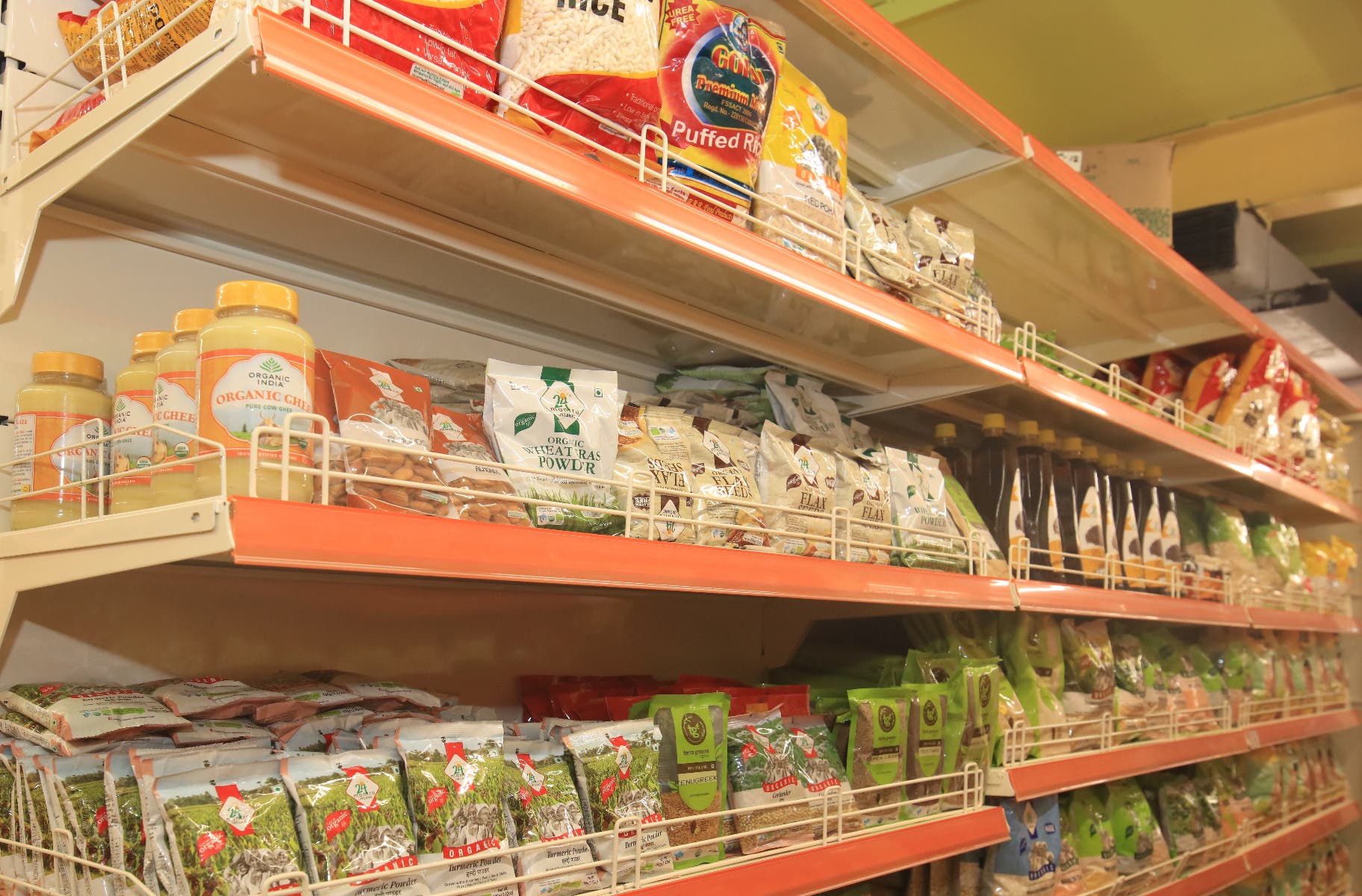 Health and well-being is an integral part of Spencer's stores. Choose from our wide range of fresh fruits and vegetables, packaged staples, tea, spices etc. grown in controlled environment without harmful chemicals and pesticides. We take pride in being one of the first retailers in modern trade to introduce organic food products in our stores to encourage healthy living amongst shoppers.
Special Dietary & Weight Control Food.
Attention calorie conscious shoppers! You can chose from a wide variety of sugar-free, gluten-free, low calorie food and other health supplements for your health / workout regimen at your nearest Spencer's stores.
Pet Foods & Accessories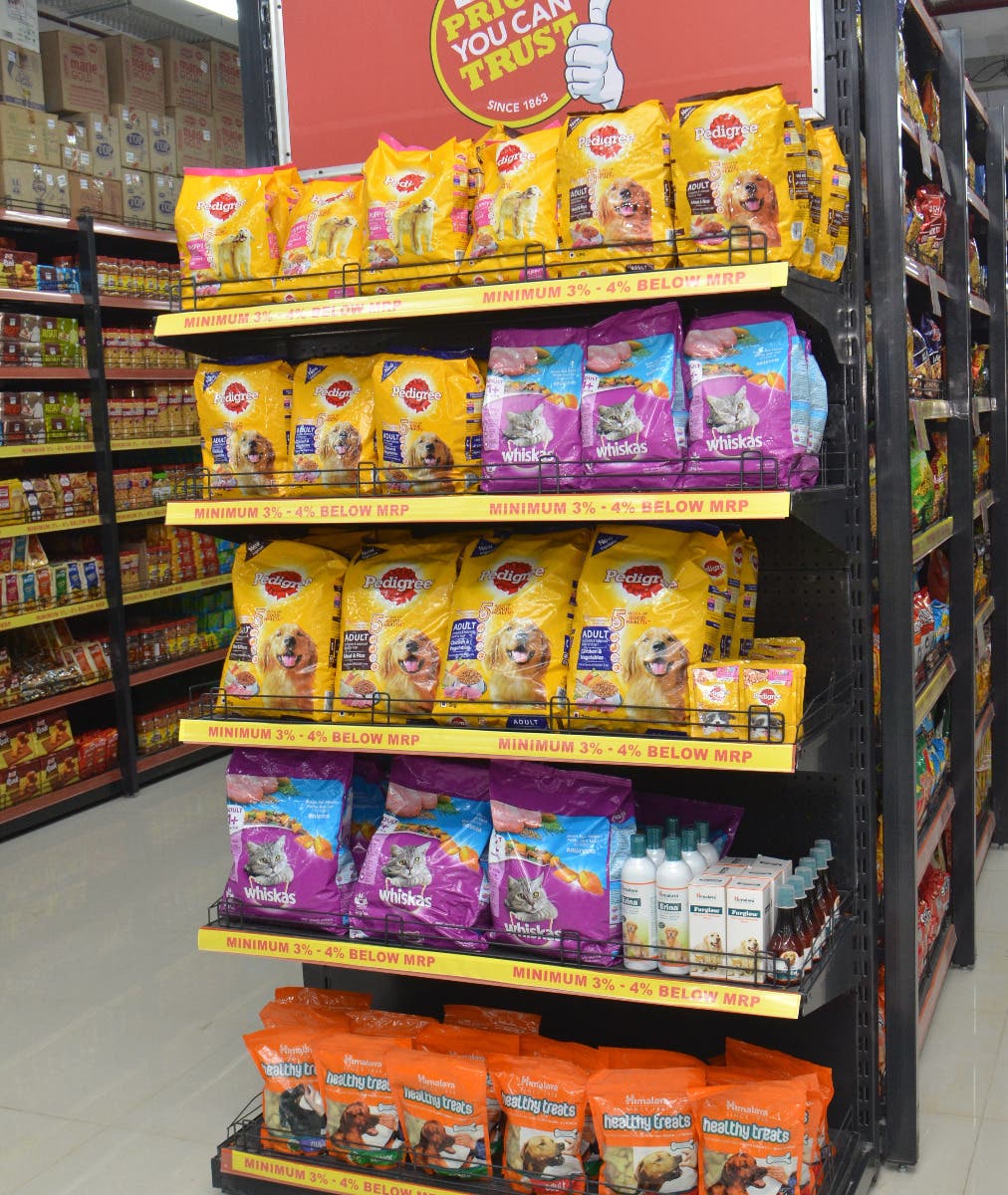 A wide variety of pet food and accessories are available at select Spencer's hyper stores that cater to the needs of your pets.
Baby Foods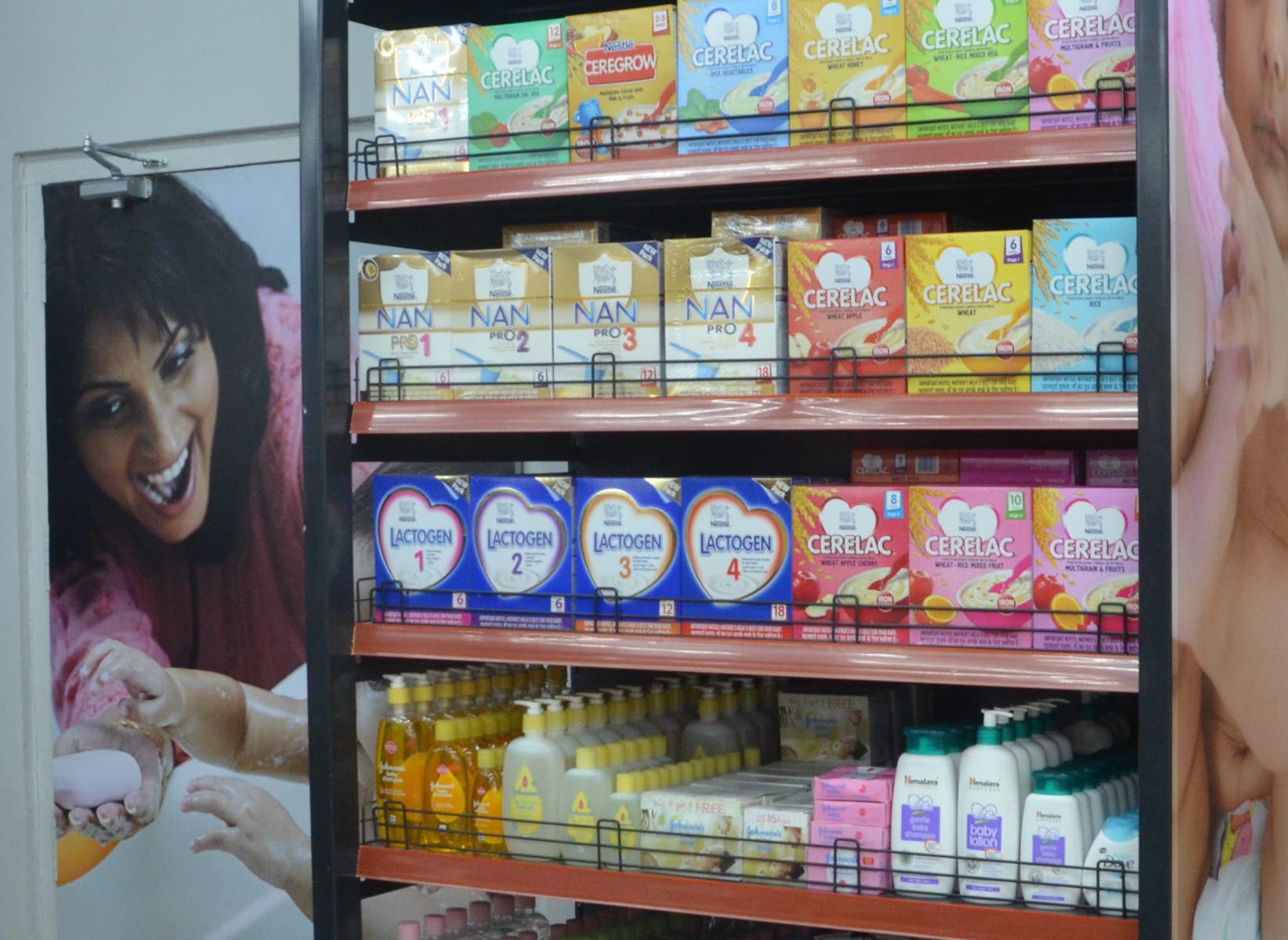 Feed your baby with wholesome baby foods which are easy to digest and great to taste from the great array of infant and baby food choices present in Spencer's stores.
Nuts & Dry Fruits
Indulge in the wide and exotic spread of nuts, dry fruits and spices in the 'Nutty Delights' section at select Spencer's outlets. Choose from over 120 varieties of nuts and dry fruits, spices and mouth fresheners sourced from across the world.
Party Needs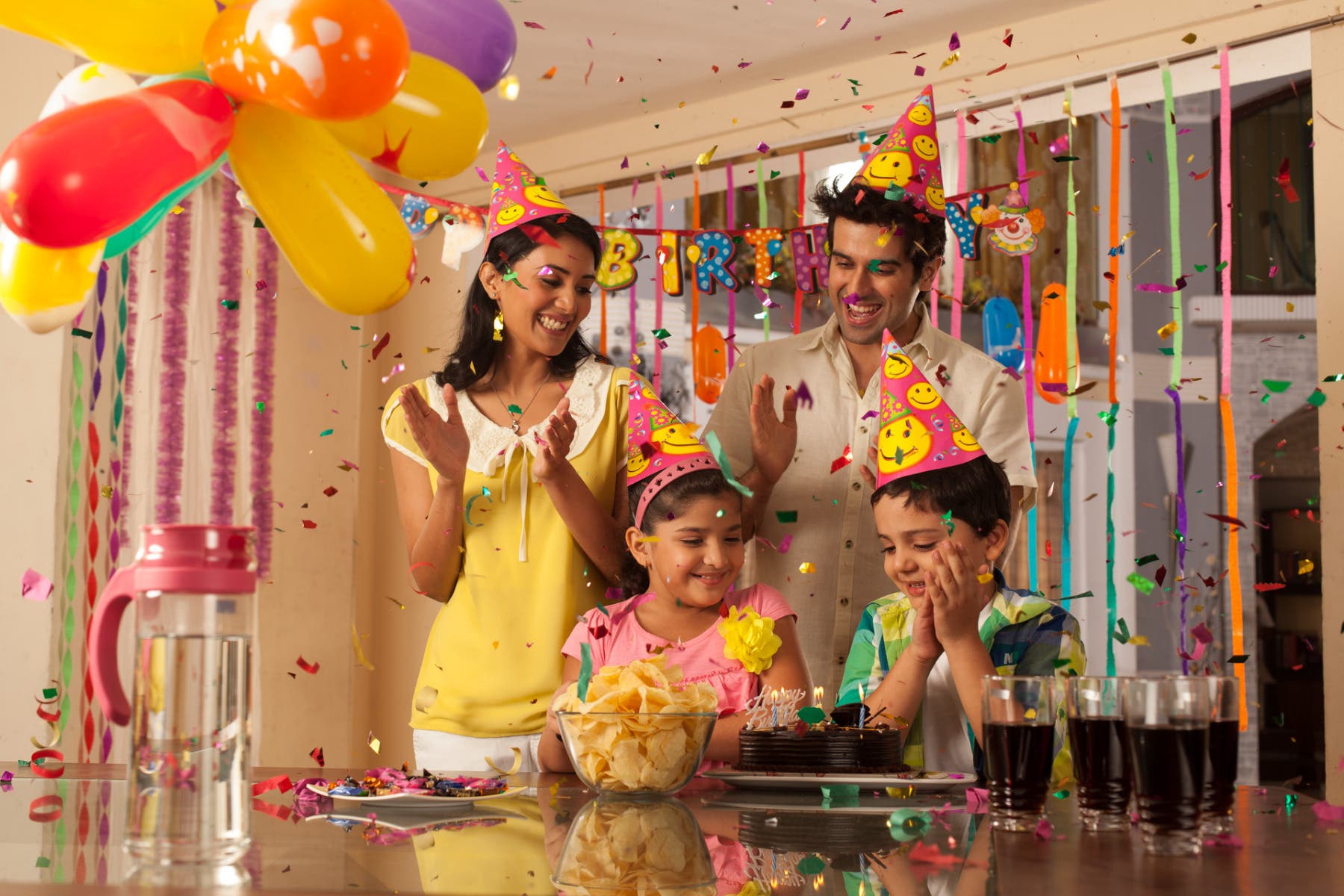 Spencer's makes party planning fun and promises it to be successful everytime! Special occasions and social gatherings will now be easier to plan and execute with Spencer's offering a variety of merchandise for all party needs. From disposable cups, plates and tissues to birthday cakes, candles, décor and props and many more… visit your nearest Spencer's store for all your party needs!
Imported & Gourmet Foods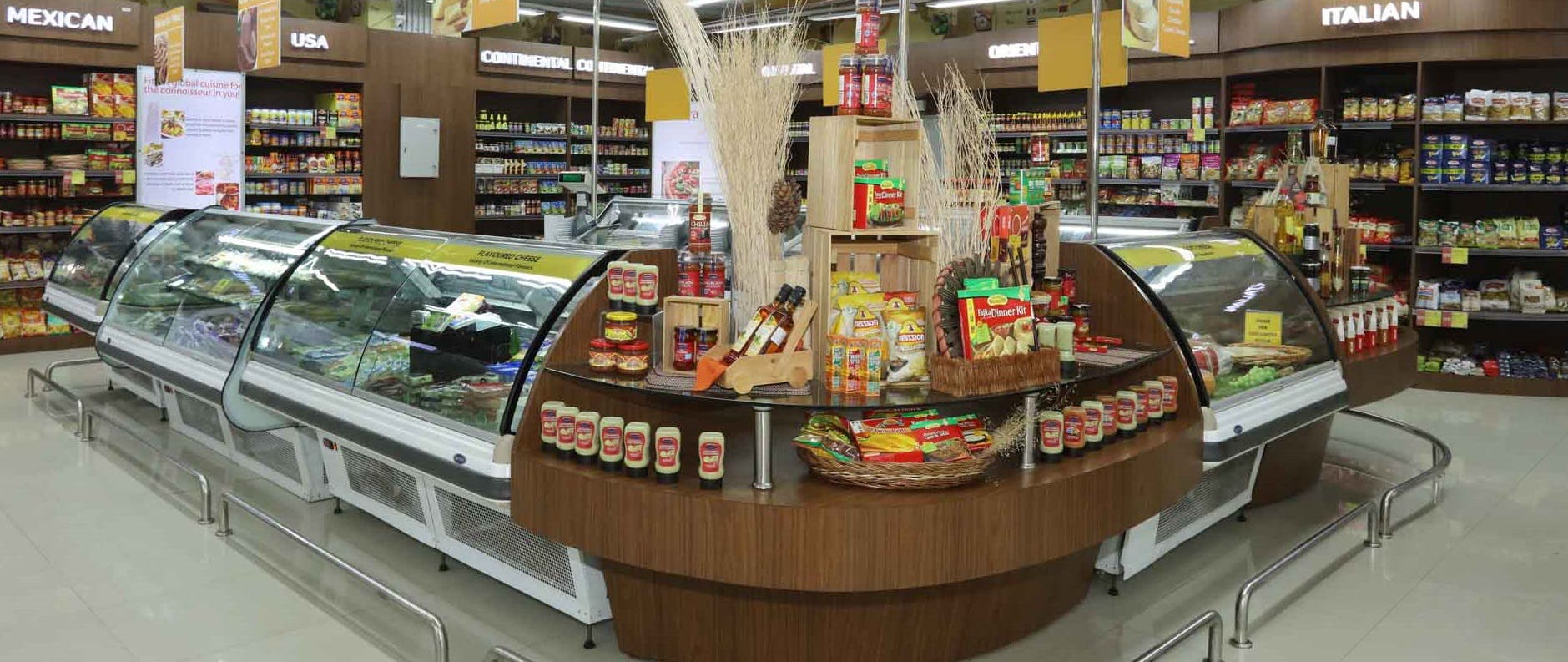 Spencer's understands the evolving taste of Indian consumers who are willing to experiment with food and are looking for authentic taste. The imported and gourmet section is a section devoted to world cuisines and its special ingredients especially procured from the country of origin such as Italian, Chinese, Japanese, Vietnamese, American and many more to ensure authenticity of taste.